Developed in South Korea in my defence, your new knight-in-shining armour will DEFEND your skin barrier with its patented 5 ceramide complex. Whether you're new to skincare or proficient in skincare, each one of us needs to and should proactively protect (defend) our skin barrier. A host of skin care issues today primarily stem from the abuse of our skin barrier. Our skin barrier is our first line of defence against all external aggressors. If your skin barrier isn't strong you'll inevitably fall prey to a lot of skin issues such as – acne, dehydration, dull skin, lackluster skin, delayed fading of pigmentation etc. But keeping a robust and strong barrier can be challenging. The lipids that hold your skin barrier together are constantly depleted from aging, sun exposure, climatic changes, lifestyle stress and so many other factors that can be hard to control. in my defence will first help heal your skin barrier, and then with regular usage fortify it and make it resilient so your skin can repair and protect itself on its own.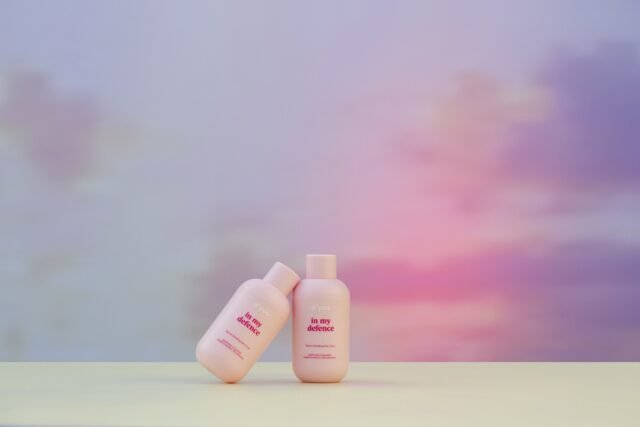 What Is Different About In My Defence As Compared To The Other Ceramide Products In The Market?
Research has shown that ceramides need to be combined with cholesterol and fatty acids in the molar ratio of 3:1:1 (the ratio of lipids naturally found in your skin), for these lipids to penetrate your skin barrier quickly and heal it from within. In fact, when ceramides, cholesterol and fatty acids are used individually and not combined in this optimal ratio, they can delay rather than accelerate barrier recovery.
While there are a plethora of ceramide products in the market, not all the products have been developed to mimic our skin's natural molar ratio.
While other ceramide products will give your skin temporary hydration and moisture, they aren't equipped to heal your skin barrier from within. Meaning, you are not truly getting the benefits of ceramides from those products. What you're getting is temporary hydration and moisture from the humectants and emollients present in these products.
In addition, other products have been unable to use ceramides in high concentration because ceramides are: (i) a very expensive ingredient, and (ii) a very thick and unstable molecule to work with. So brands prefer to use them in lower doses to control the feel, texture, and stability of the end product. We overcame this issue by using our patented dispersion technology that allows us to use pure ceramides in a highly stabilised form and at a high dosage of 1%, which is 20X higher than the industry norm.
What in my defence does differently is it actually repairs your skin barrier over time such that your skin on its own develops the ability to take care of itself. What that means is your skin's lipids are fortified to reduce its own water loss and retain more moisture on its own
How To Use It? in my defence works on its own or in combination with ANY of your existing products.
If using alongwith Hustle or any other actives, use in my defence as the last step in your nighttime routine, or as
the second last step before sunscreen in your morning routine
Use about 2 pumps of in my defence during hot & humid months and use about 3-4 pumps during the cold &
dry months.
IMD can be suitably and safely used by EVERY age group, gender and skin type (dry, oily, sensitive,
combination, dehydrated, and acne-prone skin).
IMD can be safely used twice each day.
IMD is also great to be used as soothing skin food on your neck, décolletage (shoulder blades) and hands.